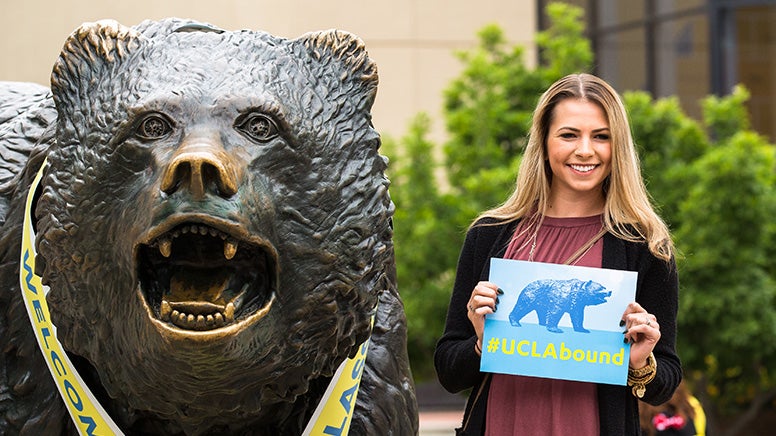 You must submit a Statement of Intent to Register (SIR) to officially accept your admission offer. The process involves:
The SIR itself
The Statement of Legal Residence (SLR), a document that establishes your California residency status for tuition purposes
The Parent Contact Information form, an optional page where you can provide contact information on your parents
Selecting your official UCLA email address and signing up for BruinAlert, UCLA's system for sending students emergency alerts (if you use the email address provided by UCLA — the one ending in

"

ucla.edu

"

 — you can read your email at: g.ucla.edu)
Paying a $250.00 registration deposit, if required (This deposit holds your place in the entering class and will be applied toward your registration fees. It's not refundable if you change your mind and decide not to register.)
All steps must be completed by this deadline: 11:59 p.m. PDT, June 1, 2024.
NOTE: If you're admitted late — close to or after this date — you have three days from the date on your letter of admission to submit your SIR.
Log in to MyUCLA to submit your SIR (you'll need your UCLA Logon ID to do so). 
Declining Your Admission Offer
If you will not be attending UCLA, please decline your offer of admission and let us know what your plans are.
Log in to the MyApplication Status website webpage to decline your admission offer. Once you've logged in, click on "Your Next Steps."
UCLA does not grant many deferrals. Students are only admitted to the term for which they applied. There is no guarantee that a deferral request will be approved. If the request is not approved and you are unable to attend UCLA for Fall 2023, then you have the option to reapply for admission, with no guarantee that you will be admitted for that term.
Undergraduate Admission will generally only grant deferments for admitted students who have/will fulfill the conditions outlined on their admission contract AND meet the following criteria/circumstances*:
Medical condition(s) and/or treatment(s)
Active military orders and/or service
Religious missions
All requests must be submitted for review between April 1–August 15. To submit a request, please log in to the MyApplication Status website. Visit the "Contact Us" link and select "Deferment Request." Requests sent via email will not be reviewed.
*Please note: majors within the professional schools (Arts, Music, Engineering, Nursing, TFT, etc) may have restrictions due to course availability that may impact a student's eligibility for a deferment.