Are you enrolled at a California community college? If so, keep reading to learn about STOMP. Our goal is to connect you with services and people that will inspire you to become a Bruin.
About the Program
STOMP is a volunteer based, transfer student organization, that will help you achieve your university goals.
Many of our volunteers are transfer students, so they can relate with your experience and offer valuable insights. Volunteers play leading roles in our virtual and in-person opportunities, including the annual UCLA STOMP conference.
Annual Conference
The 24th Annual STOMP Conference will be in-person on Saturday, March 11, 2023 from 9:00 a.m. – 3:00 p.m. at UCLA. There will also be an online component on our website that will have resources and pre-recorded presentations for transfer students to learn more about the transfer pathway and the value of a UC education. 
If you have questions about the conference, you can contact Dayana Rivas (drivas@admission.ucla.edu) or Diana Elizabeth Torres (dtorres@admission.ucla.edu). We look forward to seeing you all!
Community College Partnerships
We are always looking for ways to engage with prospective community college students, especially those who may have never considered UCLA as a transfer option. We would appreciate the opportunity to host virtual and/or in-person events at your community college, especially within your respective student support programs, such as Puente, Umoja, EOPS, First Year Learning Communities and all others.
For more information and scheduling, please contact the STOMP Supervisors: Diana Elizabeth Torres or Dayana Rivas.
Become a Volunteer
Current UCLA students, STOMP is always looking for volunteers. Join our team and make a difference in a transfer student's educational journey!
Opportunity to share your transfer story to inspire others
Advocate for transfers and create awareness for the community
Improve your public speaking and communication skills
Volunteer alongside UCLA Undergraduate Admission staff
Be a part of a welcoming and supportive STOMP family
Give back to your transfer community
Meet our Program Coordinators
Nicolette Zargari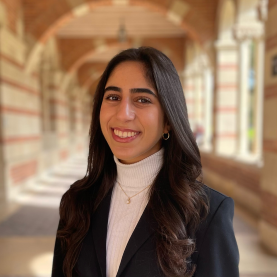 Community College Santa Monica College
Major: Neuroscience
Minor: Gerontology
Pronouns: she/her/hers
Bio: I was born and raised in Los Angeles and attended Santa Monica College, where I founded and served as president of the Amnesty International SMC chapter, worked as a peer mentor and tutor for the STEM program, and was treasurer for the Pre-Health Association.
At UCLA, I serve as the external vice president of TransferMed and a mentor for Moorpark College students in the Moorpark College to UCLA Honors Program. I also work in two research labs on campus, studying cognitive neuroscience and ophthalmology. In my free time, I enjoy playing the violin and piano, oil painting, hiking, and spending quality time with family and friends.
As a STOMP Coordinator, I aim to be a resource for both transfer students at UCLA and prospective UCLA transfers by creating a safe space for students to ask questions and connect with one another. I want to act as a source of knowledge, guidance, and support for students to aid them in navigating UCLA and making their transfer experience run more smoothly.
Oseas Garcia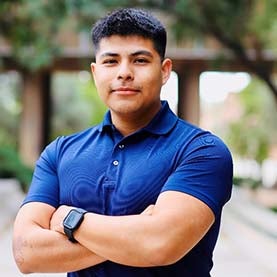 Community College: Palomar College
Major: History
Minor: Chicano Studies
Pronouns: he/him/his
Bio: Born and raised in San Diego, I transferred from Palomar College with a major in History and a minor in Chicano Studies. While at Palomar College, I was part of the Puente Program, TRIO Student Support Services, and served as the Vice President of Internal Affairs for the Associated Student Government.
While at UCLA, I currently serve as a Bruin Ambassador for UCLA Undergraduate Admission. In my spare time, I enjoy meeting new people, working out, playing soccer with friends, and exploring the many clubs and organizations on campus.
As a STOMP coordinator, I aim to promote higher education to prospective transfer students who are low-income and first-generation. In addition, I hope to strengthen the UCLA transfer community by partnering with other campus resources to provide aid to current transfer students and to serve as mentors to future transfers.
Mae Altarac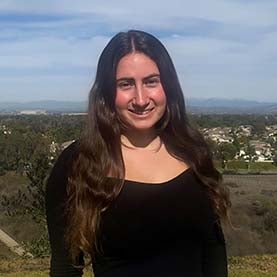 Community College: Irvine Valley College
Major: Communication
Pronouns: she/her/hers
Bio: I was born and raised in Orange County and am a second-year transfer student from Irvine Valley College (IVC). At IVC, I was involved in the honors program and the speech and debate team.
Currently, I am involved at The Center for Community College Partnerships as a communications assistant. I enjoy traveling, hiking with my dog, and spending time with my family and friends.
As a STOMP Coordinator, I hope to encourage the transfer pathway and help change the stigma surrounding attending community college. This year, I hope I can help transfer students take pride in their accomplishments and create a safe space for transfers to meet each other.